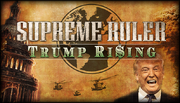 Supreme Ruler 2020 is a free DLC that was developed and published by BattleGoat Studios. The DLC was released on July 26th, 2016.
Description
[
]
"MAKE AMERICA GREAT AGAIN!" 
Within the United States, civil unrest fueled by racial tensions reaches even higher than in the 1960's. To China and Russia, the new US President seems so unpredictable and reckless that it seems logical to make a pre-emptive strike rather than wait for him to have a 'bad hair day' and launch a strike against them. In Western Europe, leaders are shaken by their new reality and realize they may have to make concessions to Russia now that America can no longer be relied upon. The European Union itself is in disarray as the UK prepares to leave and forge its own relationships. In Mexico, and even in Canada, militaries are brought to an unprecedented level of readiness over concern of Trump's ambitions.   
DLC additons
[
]
New Sandbox starting on US Inauguration Day, January 20, 2017 

Updated "Modern World" relationships, leaders, and regional economies 

Take control as President Donald Trump, or try to minimize the damage as another World Leader 

Build the Trump Wall - although you may have to pay for it yourself 

Encourage regional growth with the Trump Tower economic development zones
Platform
Minimum
Recommended
Windows
• OS: Mac OSX 10.6 or higher
• Processor: Intel Core 2 Duo or higher
• Memory: 512 MB RAM
• Graphics: ATI/Nvidia/Intel HD Graphics
• Storage: 2 GB available space
N/A
References in other media
[
]
PC Gamer provided a 2-page article on their experiences playing Supreme Ruler Trump Rising in August 2016.
Motherboard also provided an article on their experience with a Trump presidency in Supreme Ruler Trump Rising.